After a great tour at Premium Peanut's shelling facility, tour attendees traveled to downtown Douglas where lunch was hosted at the Central Square Complex and sponsored by Premium Peanut LLC. Attendees enjoyed a home-style meal and received a brief presentation from Premium Peanut, along with a raffle drawing with giveaways.
After hearing from Premium Peanut's representatives, Dr. Sam Pardue, dean and director of the University of Georgia's College of Agricultural and Environmental Sciences, addressed the group. Dean Pardue joined the college in March from North Carolina State University, where he served as associate dean for academics.
Today, the dean is celebrating his six month anniversary serving in his role at UGA. He expressed his gratitude to the agricultural community for welcoming him and allowing him to learn more about the Georgia agricultural industry. During his six month tenure, he said the same sentiment is echoed within all commodities across the state.
"Everyone is so grateful for what the University of Georgia and College of Agricultural and Environmental Sciences does for them, and I think it's a great partnership," Pardue said.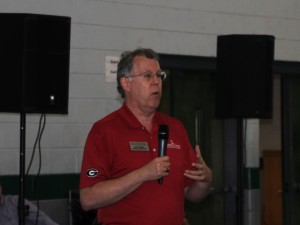 Whether it's research conducted, the services offered by Cooperative Extension or the privilege of educating young men and women across the state – Pardue sees the value in it all. He asked attendees to encourage young men and women in their lives to consider agriculture in their future.
Pardue went on to talk about the growing population and the need to feed and clothe the world in the coming years.
"I was born in 1955 and there were three billion people on the planet…If the good Lord keeps me around until I'm 95, there will be over nine billion people on the planet, so in my lifetime alone, we've seen an increase of the population that will have tripled," Pardue said.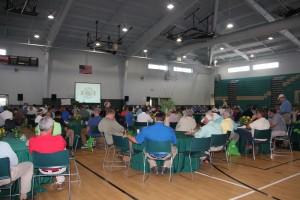 He said the need for additional land, less water use, etc. will grow in demand, yet we will have to feed and clothe more people than ever before. And this was something that could only be accomplished with a vision and forward thinking. He complimented the Georgia agricultural industry and its leaders who have had that vision and who have put Georgia in a position to be a leader in so many areas, such as peanuts.