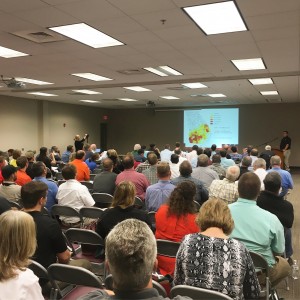 The 30th annual Georgia Peanut Tour kicked off on the afternoon of Tuesday, Sept. 13, with a "Hot Topics" symposium located at the Georgia Museum of Agriculture. Expert speakers addressed the current status of Georgia's peanut crop and also the importance of University research in sustaining peanut production in Georgia. Symposium speakers will discuss recent innovations and research in peanut production, breeding, pest management, engineering, storage and handling, and processing.
University of Georgia and USDA scientists conduct research and extension programs on all aspects of peanut production. The majority of these scientists are located at the University of Georgia's Coastal Plain Experiment Station at Tifton. The remaining scientists are located at the Georgia Station at Griffin, the main campus at Athens, and the USDA's National Peanut Research Lab at Dawson.
Producing a peanut crop involves a broad spectrum of cultural practices. These include: agronomics, fertilization, cultivar selection, pest management (weeds, insects, diseases), irrigation, mechanization, economics and marketing. The University of Georgia Peanut Team produces a guidebook annually for growers to use throughout the production season. The 2016 Georgia Peanut Update is available online for growers. The University of Georgia also has numerous publications related to peanut production and many of the publications are available through the UGA Cooperative Extension county offices.
View the speaker presentations by clicking here.