The second stop on the tour today featured the newest grower-owned shelling plant in Georgia – Premium Peanut LLC. This makes the third grower owned shelling plant to open in the past 15 years in Georgia. Premium Peanut was formed in the fall of 2014, with more than 200 grower owners and seven buying points. Following a year of construction in Douglas, Georgia, the plant began shelling peanuts in 2015.
Premium Peanut held their official ribbon cutting and open house April 22, 2016. Approximately 400 shareholders, dignitaries, community supporters and guests came out to help the company celebrate.
"We have more than 200 dedicated grower owners. They are not just growing peanuts for us," says Karl Zimmer, president and CEO of Premium Peanut LLC. "They own shares in the company and they are invested in the future of the company."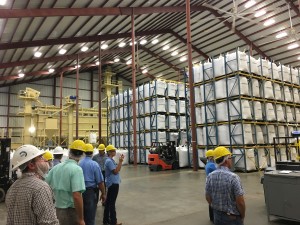 According to Kent Fountain, chairman of the board at Premium Peanut, the shelling plant will always have a steady supply of 140,000 tons of peanuts year in and year out. The company has spent a great deal of time and effort to develop export markets to Europe, South America and Asia.
At Premium Peanut, if a grower purchased shares in the company, they must grow and deliver farmerstock peanuts. This helped promote broad ownership in the company, Zimmer adds.
"This also helps ensure visibility and stability throughout the supply chain, and is in-line with one of our objectives, which is to help stabilize the market for South Georgia producers."
Stabilizing the market is just one reason growers such as Elton Brooks decided to invest in Premium Peanut.
"I chose to invest in Premium Peanut because it means a lot to our area as far as jobs and the economy, as well as the peanut farmers. It helps to stabilize the acres and prices so we can plan for the future a lot better," Brooks says.
All three of the grower-owned shelling plants are very similar in the fact that growers invested in the capital investment, must guarantee a certain quantity of peanuts to the shelling plants and the plants are the only new 5th generation LMC-designed shelling facilities. The other two grower-owned shelling plants are Tifton Quality Peanuts om Tifton, Georgia, and American Peanut Growers Group in Donalsonville, Georgia.
At Premium Peanut, each of the seven buying points provided capital up-front to enable the project to get off the ground. Once shares were sold to growers, the buying points were reimbursed. The plant also received funding from AgSouth and a New Markets Tax Credit from the U.S. Treasury Department.