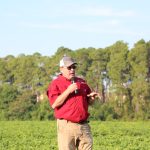 During the 2023 Georgia Peanut Tour, Scott Monfort, University of Georgia Extension peanut agronomist, provided an update on the peanut crop and some of the some of the issues growers have dealt with throughout the season.
According to Monfort, growers had a bumpy start to this season.
"We had rough weather early and when I say rough it was very cool and very wet to begin with and then it stayed cool throughout June," Monfort says. "So, it took us a little while to get this crop up and going, but the crop did finally get there. The only issue now is that farmers are about two weeks late."
The peanut crop did catch up a little bit with the hot weather in July and August. However, according to Monfort, peanuts need more hot weather. During the first part to the middle part of September, farmers begin their harvest.
"This is our time to figure out how well we did this year and I'm afraid to say that we are in a situation where it's not a perfect crop," Monfort says. "We've had rough weather like I mentioned earlier, real hot through the middle part of this summer and we did dry out in some places, especially in the western part of the state. Some areas have gone three to four or five weeks in some places without any rain."
The recent Hurricane Idalia did help some of the acres from the central part of the state through the eastern part, but it did not help the farmers in the western part of the state. The dry land crop is still suffering some in parts of Georgia.
"We're going to have to harvest some of those a little bit earlier," Monfort says. "The yield's going to be a little bit lower quality, but I think at this point if we can capture the crop that's on it, the quality should be okay."
According to Monfort, the irrigated crop at this point is on par.
"The irrigated crop is doing good," Monfort says. "It looks like we still have a pretty good high yield potential as long as we continue doing what we can by taking care of all the pest problems and irrigating when needed."
Monfort encourages growers to wait until their peanuts are as mature as possible to help with their overall yield and quality.
"We're going to have some areas of the state that we've got to worry about, but I think for growers throughout the state, we've made it through a tough year, and we've been able to still make a crop," Monfort says. "I think we'll end the year at least on a good note as far as I can tell, if growers follow through and finish the things that we need to."