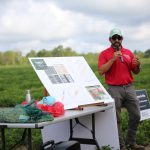 Nino Brown, University of Georgia peanut breeder provided an update to 2023 Georgia Peanut Tour attendees on the peanut breeding program at the university. Brown works closely with Bill Branch, peanut breeder at the University of Georgia, as they work to develop new cultivars or varieties of peanuts for growers in Georgia and beyond.
"We look to improve yield and improve profitability," Brown says. "We do a lot of work improving disease resistance, insect resistance and improving shelling quality characteristics that are important for the growers, the shellers, manufacturers and ultimately the consumer."
So, Brown and Branch make crosses between cultivars that have a number of good characteristics and then they evaluate the progenies that come out of those crosses. This process takes several years.
"It takes approximately 10 to 12 years from the time we make an initial cross-pollination to the time we have something that is ready for a variety release and then ready to sell to growers," Brown says.
The breeding lines are tested all over the state of Georgia at research farms in Midville, Plains, Attapulgus and Tifton. The new peanut lines are also tested at research and education centers or research farms throughout the peanut growing region where the cultivar could be grown.
"We do that so whenever we release a cultivar to growers, we know that it's going to perform well in a variety of growing situations and in a number of growing environments that the cultivar may encounter in in South Georgia," Brown says.