After leaving SunSouth, tour attendees headed over to LMC Manufacturing. With a history of more than 80 years, LMC has been a leader in producing world class machinery. The company offers solutions tailored to meet the needs of a specific industry and/or company. From gravity separation machines and destoners to vibratory conveyors, LMC produces custom-built industrial separation equipment for the customer's unique processing requirements.
Throughout the years, the Carter family has built equipment ranging from peanut shellers for Georgia farmers to bow hooks for the Navy during World War II. At the root of it all remains the consistent mechanical innovations helping numerous industries operate smarter and more efficiently.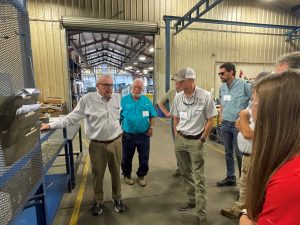 LMC's focus on process application separates it from other manufacturers. This focus drives them to understand the process and design applications with specific purposes. LMC equipment is custom-built for the required process whether for a food product or recyclable materials and is adaptable for a variety of commodities.
LMC is committed to delivering peanut processing systems and equipment to help peanut processors achieve maximum capacity and efficiency for their dollar. Originating from the rural peanut farms of South Georgia, LMC has become the world leader in peanut shellers and equipment for the peanut shelling process. LMC equipment is responsible for shelling 90 percent of the commercial peanut market. These machines are designed specifically to maximize processing speed along with separation effectiveness.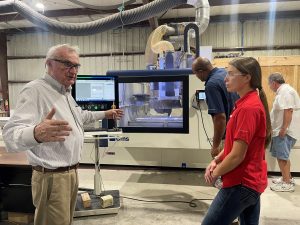 What makes LMC unique is the staff of peanut specialists that can design, build, deliver and install an entire peanut processing operation. From cleaning to separating, back to cleaning and shelling, LMC equipment can go through the entire process customized to the customer's specifications. Also, by removing the lower-grade peanut prior to shelling, the end-produce will be of the best quality, yielding the ultimate monetary profit.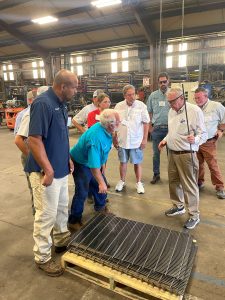 Below are some of the types of peanut processing systems LMC can design and build from the ground up. To learn about each, click here.
Peanut Shellers
Sizing Shakers
Destoners
Aspirators
Peanut Blanchers
Vibratory Conveyors
Gravity Separators
Easy Dump Elevators
Air Gap Cleaners
With LMC's large range of peanut customers, they have made contacts all across the globe including: South America, Australia, the Middle East, Europe and the Western United States including California.
Click the video below to learn more about LMC and the Lewis Carter Family.
View the 2023 Georgia Peanut Tour Photo Album