To kick off the final day of the tour, Agri-AFC graciously hosted tour attendees at the company's Cordele location. Agri-AFC, a company who supports crops of all varieties, was formed in the fall of 2003 as a joint venture between Alabama Farmers Cooperative and WinField United. This joining allowed local cooperative members of the Alabama Farmers Cooperative to have more competitively priced crop input products and availability of new products.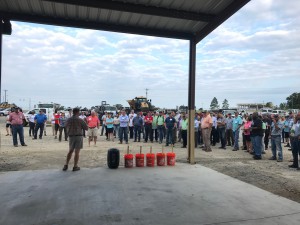 Since its inception, Agri-AFC has made several additions by purchasing fertilizer companies, retail locations and storage and handling facilities throughout the Southeast. Agri-AFC is based out of Decatur, Alabama, and currently has more than 300 employees. These employees staff the seven fertilizer terminals, three crop protection warehouses, three seed warehouses, eight professional products locations, a cotton gin and warehouse and 30 retail operations throughout the Southeast.
The Cordele location, seated on 13 acres, operates an 8,000-ton fertilizer plant and is home to the company's largest retail location. For fertilizer specifically, the plant sees approximately 50 semi-trucks each day, where they operate a new high-speed system that loads trucks in six minutes or less; much faster than an older version that may take 45 minutes to an hour to load. Most peanuts are not fertilized; however, since peanuts are typically rotated with cotton and corn, both crops that need fertilizer, what this location offers is important to the South Georgia row crop farmer.
This location also services 12 of Georgia's 14 stores as a full-service agricultural retailer, operating in 20,000 square feet of retail space. In addition to the fertilizer offered, the company treats corn, cotton and soybean seed, as well as rye, wheat and oats occasionally. They also sale a variety of chemical products for peanuts and other crops, as well as lime and land plaster.