Upon leaving Golden's shelling facility, tour attendees traveled down the road to Nolin Steel. Nolin Steel, a third generation, family-owned and operated business, is a machine manufacturing company in the peanut industry. The company was founded in 1975 by Guy and Frank Nolin in Commache, Texas, and originally focused on millwright work. The company moved to Ashburn in 1986 and over time, began making changes in manufacturing and redirecting its focus to custom equipment and niche markets. Today, Nolin Steel manufacturers a multitude of equipment products, including those for processing and materials handling. To keep up with new technology, investments in modern manufacturing have allowed them to handle many processes on site (design, laser cutting, forming, welding, powder coating and final assembly). The company is growth-oriented with 30 employees, 80,000+ square feet of space and endless possibilities.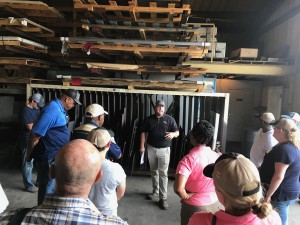 Nolin Steel serves the peanut industry, as well as almonds, grain and feed. In regard to peanuts, they provide turn key projects for buying points and warehousing, shelling and in-shell plants, blanching plants, re-mill lines, seed treating lines and bulk load out systems. The company's philosophy on equipment design is to make it effective (it must do a good job), durable (it must last a long time), simple (they follow the KISS method), efficient (lowest possible inputs to do the job at hand), user friendly (no advanced degrees needed) and inexpensive (their goal is to make a living, not a fortune). To view their peanut equipment, click here.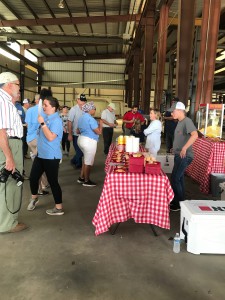 During the group's visit at Nolin, attendees received a tour of Nolin's manufacturing facility and a presentation on the company. Grant Nolin, president of the company, said one of the key take-home messages he wanted tour attendees to leave with is any size peanut shelling plant can be profitable. At Nolin Steel, their goal is to design exactly what the customer needs from the ground up; no matter the size. They want customers to understand their timeless values: hard work, quality, honesty and integrity, constant improvement and excellence. All things the Georgia Peanut Tour attendees were able to see.