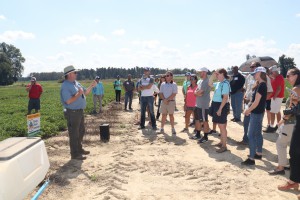 The Southeast Georgia Research and Education Center lies in the upper Coastal Plain near Midville, Georgia. Just south of the fall line, the 719-acre center was established in 1952, when Burke County deeded the land to the University System Board of Regents.
Orien L. Brooks served as the first superintendent and remained so until his death in 1978. Charles Perry was the second superintendent and now Anthony Black holds the title.
Originally concentrating on chicken, beef cattle and dairy research, today the facility's efforts are focused on row crop research. Peanuts, soybeans, alfalfa, corn, cotton, sorghum and potential biofuel crops are studied.
Variety testing, pest management strategies, fertilizer application rates, seeding rates and disease management research programs are also in place. The center is the only UGA research location where UGA scientists study cylindrocladium black rot, a fungal disease first found in 1965 on peanuts in southwest Georgia. Today, CBR plagues alfalfa, clover and soybean as well.
Four full-time employees maintain research projects for UGA College of Agricultural and Environmental Sciences researchers conducting research at Midville. During the 2018 Georgia Peanut Tour attendees were able to see the on-going research projects involving peanuts.