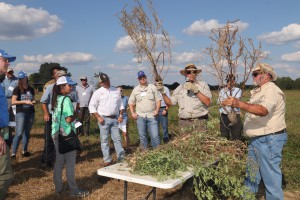 Attendees on the Georgia Peanut Tour learned about challenges organic farmers face with producing peanuts at the farm of Al Clark. He started farming in 1979 and began transitioning to organic production in 2007. Today Clark grows approximately 276 acres of organic peanuts, corn and soybeans at Healthy Hollow Farms in Brooklet, Georgia.
In 2018, Clark planted 20 acres of peanuts in two varieties — including Georgia 06-G and the less popular Georgia 12Y, which has proved promising in an organic system due to a viney growth habit that enables it potentially to outcompete weeds and general disease tolerance. Clark sourced untreated seeds and used a garlic-based inoculant (a mixture of neem and BacPac) at planting time, noticing better germination and foliage development among 06-G plants where the rate of this inoculant was doubled. This early growth, commonly referred to as "plant stand," is key for organic peanut plants to overcome weed and pest pressure.
Despite a good stand, Clark has continued to struggle with weeds this season. While it has been shown that organic peanuts can be grown successfully in Georgia, the single biggest challenge is weeds, which in the Deep South can be diverse and aggressive. Organic growers do not have effective herbicides in their toolbox, which means they must rely on timely mechanical cultivation to kill weeds before they can get a foothold. But with constant rains throughout 2018, Clark could not get into his fields he needed to cultivate.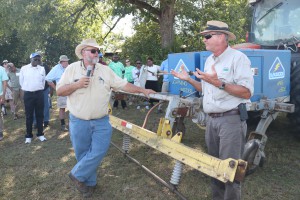 However, in recent years, Clark has employed an electrifying new technique: a lightning weeder. A long journey to North Dakota resulted in this purchase, which uses electricity run across a conductive bar running horizontal to the ground, above the sprawling peanuts, to electrocute tall weeds in the field. Although not effective on grasses, for weeds such as the prolific pigweed with a center stalk and deep taproot, the lightning weeder has a chance to shine (or, to be more literal, flame).
The lightning weeder does not come without limitations: scarcity, cost, and the huge amounts of power it uses. And even with successful weed control, there are still obstacles in producing organic peanuts. There is a lack of high quality, untreated seed for growers, and a lack of marketing power for organic Georgia Grown peanuts due to the smaller acreage and lack of infrastructure. In a Certified Organic system, each step from harvest to handling to processing has to be certified through the National Organic Program. With the scale of peanut production and associated infrastructure in Georgia so large, and the acreage of organic production so small in comparison, there can be little economic benefit to going through the certification process for shellers in Georgia. And without organic shellers to maintain the certification of the peanuts, there is a lack of supply for the marketplace.
And this is where Georgia Organics plays a role. Through a combination of USDA and private grants, and a partnership with the Southeastern African American Farmers Organic Network, Georgia Organics has been working with farmers actively growing or interested in growing organic peanuts to share production best practices, develop marketplace connections, address issues of seed supply, and facilitate the growth of organic peanuts in the peanut capital of the world to meet the high demand for Georgia-Grown Certified Organic Peanut products.
To learn more about Georgia Organics, organic peanuts in Georgia, and upcoming opportunities and events, contact Perri at perri@georgiaorganics.org.