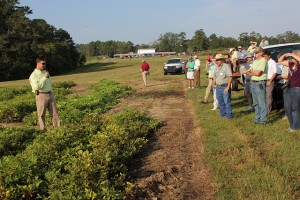 The Attapulgus Research and Education Center is located in the deep southwest corner of Georgia near the town of Attapulgus, Georgia, about 5 miles north of the Florida line. The warm, humid climate is ideal for major agricultural insect, weed, nematode and disease problems. This provides a unique place for UGA College of Agricultural and Environmental Sciences researchers to conduct studies in a controlled atmosphere to help farmers economically and environmentally deal with these challenges and to screen new crop varieties with pest resistance.
Farmers in this region grow many crops. The research here reflects that diversity. Researchers and staff work with peanuts, corn, cotton, soybeans, peaches, peppers, squash, sweet corn, snap beans and watermelons.
The center was originally the Shade Tobacco Experiment Station, established in 1939 to help the region's many shade tobacco farmers at the time. It operated under the Coastal Plain Experiment Station in Tifton, Georgia. In the 1950s, the Campbell Soup Company Research Farm in nearby Climax, Georgia, was interested in growing okra and other horticultural crops and requested that such research be conducted on the station. The station continued to assist shade tobacco farmers, too, until cheaper labor drew the industry to South America in the early 1970s.
In 1974, with the shade tobacco industry gone from Georgia, the name was changed to the Extension-Research Center. The new center helped the former shade tobacco farmers learn to grow vegetable crops. In 1990, it was named the Attapulgus Research Farm. It later became the research and education center it is today.