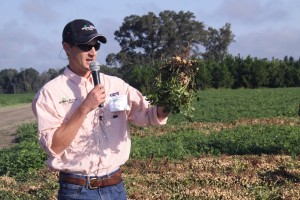 Mark Abney, peanut entomologist at UGA, visited with Georgia Peanut Tour attendees during the three-day tour on the various pest issues and the research he has been working on the last two years.
"Some of the things that are really exciting to me in terms of entomology research are the economic thresholds we are developing for a lot of the pests we have in peanuts," Abney says. "That's very important to growers so they know when to spray or not to spray so that we are not wasting money by not treating when we need to or by over treating when we don't need to be spraying."
Abney also has an efficacy testing program where he looks at all of the new chemistries and some of the older chemistries on the established pests we have to determine what is the best product to use for the pests we have in peanuts.
According to Abney, 2014 has been a very buggy year. He says the year started out early with thrips, very much like in 2013. Then growers went straight from that to some caterpillar problems that have been higher than a normal year.
The two things that have been really problematic for growers this year have been lesser cornstalk borer and two spotted spider mite. "Those are probably the two most important pests we have had in Georgia. They are not a pest every year but when they are it can be really problematic," Abney says.
"We have spent a lot of money and heartache trying to control those two pests." Both pests are very difficult to control especially in non-irrigated fields with the hot and dry conditions we have seen in 2014, he adds.
Abney credits the Georgia Peanut Commission for the research funding he receives and says it is extremely important for what he does at UGA. Without the funding, it would have been very difficult if not impossible to get his research program started. "We wrote a grant last year and received some money from the Georgia Peanut Commission which we were able to use to leverage with USDA to receive a larger grant from USDA this year," Abney says. "This allows us to work on some of the thresholds for the key pests we have and without the Georgia Peanut Commission support we would not be able to do the research."
Abney also has a blog where he provides growers the latest information on peanut pest issues at http://blog.extension.uga.edu/peanutent.