Joe Boddiford of Screven County, Georgia, visited with attendees during the first tour stop Thursday morning, Sept. 18, 2014. Boddiford has been farming since 1974 and follows in the footsteps of his father and grandfather. Joe took time to introduce his brother and cousin to tour attendees. "We have all been involved in agriculture our whole lives and we love it," he says. He also introduced his son, Knapp Boddiford, and told a story about how Knapp got his name. His name comes from Seamen Knapp who actually drafted a bill for the establishment of experimental research stations, which later was introduced to the 47th Congress, laying the foundation for a nationwide network of agricultural experiment stations.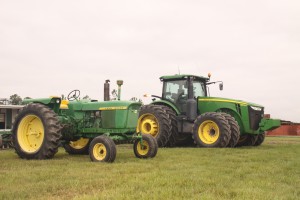 Use of technology on the farm was the main focus of this tour stop at Boddiford's farm. Boddiford pointed to a 1962 John Deere 3010 tractor that Boddiford started farming with in 1974. His father originally purchased the tractor in 1962. Boddiford farmed with the 3010 for a number of years and needed a new tractor in the 1990s so he sold it but later regretted it. After many years, Boddiford saw a John Deere 3010 tractor at an auction in South Carolina, recognized it as the tractor he had sold earlier so he purchased it again from the auction for more money than he originally sold it for. Today, Boddiford has told his son that the 3010 tractor is one piece of equipment he can't sell.
When comparing the 3010 tractor to other equipment sitting beside it tour attendees can quickly notice how times and technology has changed throughout the years. Boddiford first became involved with the latest technology when he attended a precision ag conference in 1996 and has since worked with the Extension service on several research projects using auto steer, yield monitoring and more. Boddiford also uses swath control on his sprayers which helps prevent spray overlap.
In addition to learning about Joe Boddiford's farm, attendees were able to hear from researchers at Clemson University on the work they are doing with variable depth digging and peanut yield monitoring.
Click here to view their presentation.
The visit would not have been complete without an example of peanut digging in the field. Of course this two-row digger shown in the video has been retrofitted to look at variable depth digging in the research trial.