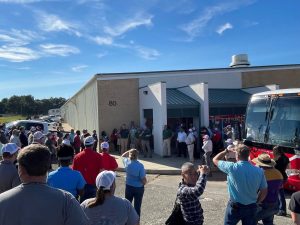 Upon leaving the Georgia Department of Ag Seed Lab, the Peanut Tour caravan headed over to Kelley Manufacturing Co. in Tifton. Kelley Manufacturing Co. has been building dependable equipment for progressive farming for more than 45 years. Their Tifton site occupies 28 acres, with 193,000 square feet under roof and more than 210 employees year round.
Since 1966, Kelley Manufacturing Co. has been committed to their original philosophy of maintaining integrity, quality and craftsmanship. Their engineers are continually researching and developing fresh and innovative products to help increase the farmer's profits and productivity.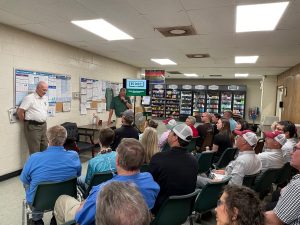 Kelley Manufacturing's product line is complete in that they build equipment for every phase of the farming process – from initial ground preparation through the field cleanup after harvest. Few manufacturers offer such a wide range of products to their customers. KMC employs some of the top engineers and specialists in the manufacturing process and hand-builds every component and machine sold.
During the KMC stop, peanut tour attendees were able to hear more about the history of KMC, participate in a tour of the plant showcasing how the equipment is manufactured, as well as  a hands-on tour of peanut equipment!