Before heading to dinner, attendees of the Georgia Peanut Tour visited LMC Manufacturing in the heart of peanut production in Donalsonville, Georgia. With a history of more than 70 years, Lewis Carter and his family have built equipment ranging from peanut shellers for Georgia farmers to bow hooks for the Navy during World War II. At the root of it all remains the consistent mechanical innovations, which have helped the peanut industry operate smarter and more efficiently.
Through the years, LMC has become a world leader in manufacturing peanut shellers and equipment for the peanut shelling process. Approximately 90 percent of the commercial peanut shelling market uses LMC equipment. The machines are designed to maximize processing and speed up separation effectiveness. The need for peanuts to be cleaned and graded more efficiently is required now more than ever. LMC's engineers work to produce the highest quality, most efficient machines specific to the industry's needs.
Below are some of the types of peanut processing systems LMC can design and build from the ground up:
Peanut Shelling Systems
Peanut Blanching Systems
Peanut Sizing Systems
Buying Point Operation Systems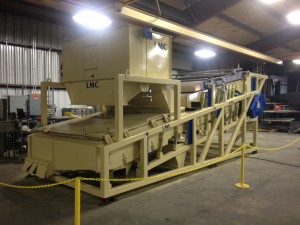 LMC offers the following equipment specifically designed and engineered for peanut processing:
Peanut Sheller: Used to shell peanuts with high efficiency, high capacity and minimum split creation
Sizing Shakers: Used to separate dry, flowable products, like peanuts, by specific size
De-stoners: Used for removal of large stones, dirt clods and glass in the pre-cleaning stages and precision small stone removal in finishing circuits
Roll Feeders: Used to regulate flows and evenly distribute product flow across processing equipment
Vibratory Feeders: Used to evenly distribute product flow across processing equipment
Aspirators: Used to separate lights (shells, pops, sticks and stems) from heavies (inshell and meats) based on aerodynamic profile and density
Air Gap Cleaner: Used to remove twigs, stones and dirt from peanuts; capable of receiving large volumes of product, while also providing accurate cleaning capability
Easy Dump Elevators: Used to gently elevate products
Vibratory Conveyors: Used to gently convey products
Gravity Separators: Used to separate lights from heavies based on density
With LMC's large range of peanut customers, they have made contacts all across the globe including: South America, Australia, the Middle East, Europe and the Western United States including California.
Click the video below to learn more about LMC and the Lewis Carter Family.
 View the 2015 Georgia Peanut Tour Photo Album