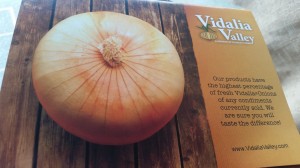 After finishing up lunch at UGA's Southeast Research and Education Center, tour participants continued their trek to the land of onions. Wait a minute. This is supposed to be the Peanut Tour. What are we doing visiting an onion area? Well, since Georgia is known for its sweet onion, the Vidalia Onion, it is only fitting to learn a little about Georgia's famous tear-jerker while in this part of the state.
Tour attendees arrived at Vidalia Valley in Lyons, Georgia. Vidalia Valley is owned by the Stanley family, which is a 6th generation family of Georgia farmers. Brian, R.T. Jr., Tracy and Vince are the current generation to grow the business from a local, seasonal farm to a year-round, multi-location and multi-functional group of integrated businesses. They not only grow the country's famous Vidalia Onions, they farm over 4,000 acres of other vegetables and row crops. Vidalia Valley, the processing facility, bottles thousands of cases and millions of pounds of peeled and diced onions including reds, whites and yellows, each year. Vidalia Onion Farms, IQF facility, freezes millions of pounds of diced onions, carrots and sweet potatoes each year. Vidalia's Best, the fresh produce facility, grows and distributes fresh cucumbers, melons and sweet potatoes. When it comes to fresh and processed produce, the Stanley's and their integrated business are your East coast source for 'Farm Direct Made Easy.'
During the tour of Vidalia Valley, tour participants were given a tour of the facility. At this particular facility, onions grown by Stanley Farms, as well as outsourced onions are shipped in, peeled and sent into manufacturing or further processing. During Vidalia Onion season, which runs from April to August, representatives from Vidalia Valley said they ship out 40,000 pounds a day of whole, peeled onions. Through Vidalia Valley's processing facility, products such as relishes, salsas, dressings, vinaigrettes, jams, jellies, specialty items, barbeque and hot sauce, as well as organic products are created. Many of the products can be found on Vidalia Valley's website, vidaliavalley.com, and some are created for other restaurants and retailers. Vidalia Valley even develops peanut related products for consumers, such as a Thai peanut sauce and a peanut butter barbecue sauce for Paula Dean. Click here for one of Paula's recipes using the peanut butter barbecue sauce!