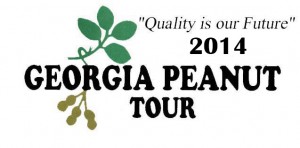 The twenty-eighth annual Georgia Peanut Tour will be held Sept. 16-18, 2014, and centrally located out of the Savannah, Georgia area. The tour brings the latest information on peanuts while providing a first-hand view of industry infrastructure from production and handling to processing and utilization. Tour stops will be made in several peanut producing counties including Bulloch, Burke, Screven, Tattnall and Toombs. Attendees can expect to see first-hand nearly every aspect of peanut production in the state. This year's tour hosts many exciting stops including on-farm field visits, the Port of Savannah, Birdsong Ogeechee Peanut Buying Point in Brooklet, the University of Georgia Southeast Research and Education Center in Midville and Vidalia Valley.
One special interest of the tour has always been the Hot Topics on Peanuts Seminar which will be held Tuesday, Sept. 16, at 3 p.m. This year's seminar, held at the Holiday Inn & Suite in Pooler, Georgia, will include speakers providing an update on the 2014 Georgia peanut crop, peanut policy and market updates, and a special focus on the Peanut and Mycotoxin Innovation Lab.
The Georgia Peanut Tour is coordinated by the Georgia Peanut Commission, the University of Georgia- Griffin and Tifton Campuses, Southwest Georgia Research & Education Center, Attapulgus Research & Education Center and the USDA/ARS National Peanut Research Lab. The Georgia Peanut Tour blog will cover all aspects of the tour so those not attending may follow along at www.georgiapeanuttour.com.
2014 Tour Schedule
Day One Tour Map & Driving Directions
Day Two Tour Map & Driving Directions